Circular Enterprise
Circular enterprise: what Peka Kroef takes from nature for its production needs, it gives back in the same or another form. This is the underlying ideal of circular enterprise: a continuous process in which little to no raw materials are lost. Not because we have to, but because we consider it our duty to treat the environment and available raw materials responsibly.
Download PDF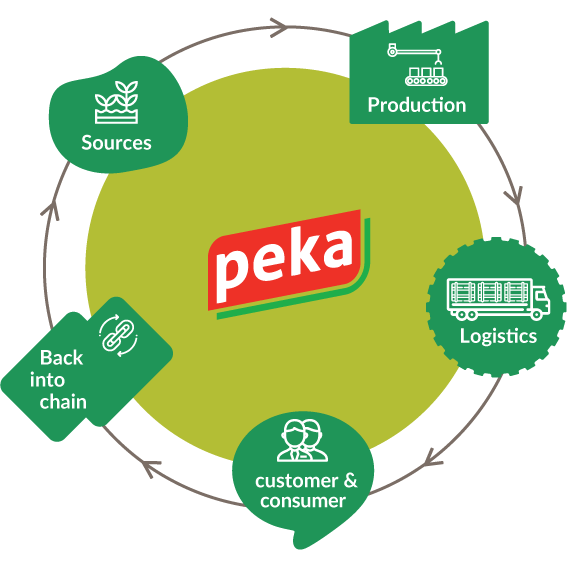 Circular enterprise requires an integral approach and of course for Peka Kroef, potatoes are at the beginning of our cycle. The quality of the potatoes is constantly monitored by our potato growers, as well as our own crop growing advisors. Our growers are all certified and we grow our potatoes as close to Odiliapeel as possible.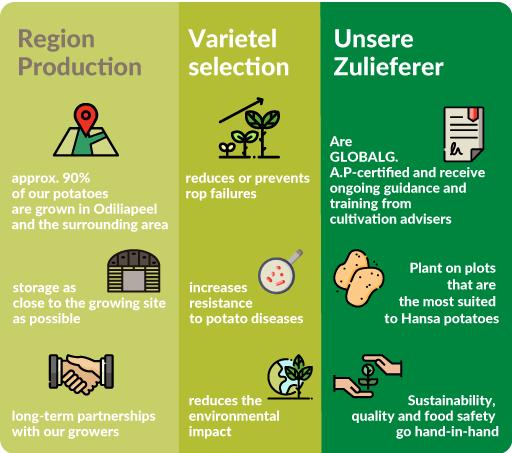 We need steam for our production process. This steam is generated by heating water. We use as little commercially purchased gas as possible for this purpose. Instead, a large part of the steam we use is generated by incinerating biogas and biomass.
Furthermore, water forms an indispensable part of our production process. The water we consume is purified in our own water purification plant using the latest technologies. This enables us to reuse a large part of the water we consume.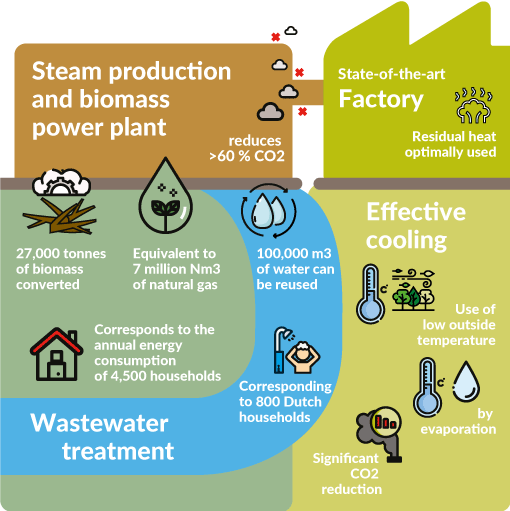 Logistics | Optimal Distribution
Each day, our drivers transport many kilos of chilled potato products to our customers. Through efficient driving methods, the use of electrically powered cooling motors and trucks that comply with current CO₂ requirements, and through optimal route planning we minimise CO₂ emissions to the maximum possible extent.
Nowadays, honest nutrition is a very important topic. We aim to reduce added salt and artificial additives to a minimum in our product compositions. Our high-quality production process means that we do not make use of any preservatives. We are constantly looking for improvements that enable us to reduce the volume of packaging materials. 
Our goal is to separate residual flows and to return them to the chain. Residual flows such as potato peelings and remnants are used as animal feed. Auxiliary products, such as film, wrapping film, paper and sludge are recycled and re-used. This way the circle is complete. This is sometimes also referred to as the added value cycle.