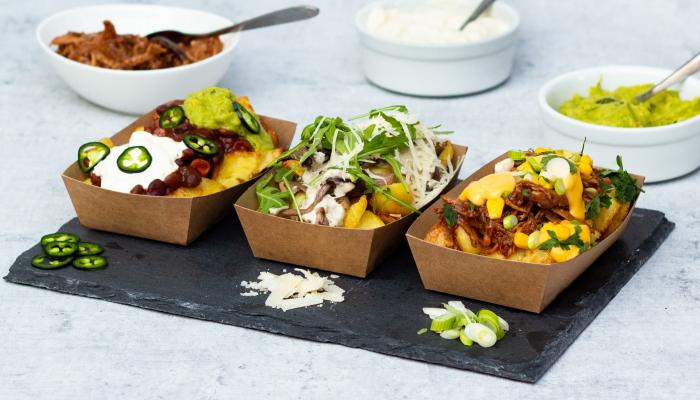 Loaded Potatoes
Loaded Fries? No, Loaded Potatoes!
Ideal as a tapas dish, for food trucks or as a snack with aperitifs.
Ingredients
Per serving, 3 variations:
2 kg Home Made Potatoes

25 g Cheddar (melted)

25 g guacamole

25 g sweetcorn

25 g Parmesan

1 spring onion

1 green chilli pepper

50 g pulled pork

50 g chilli con carne

25 g crème fraîche

25 g chanterelles
Preparation
Frying Pan
approx. 10 minutes at medium temperature
Bake the Home Made Potatoes in the oven at 200 °C for 20 minutes or prepare in a frying pan.

Arrange the potatoes in the dishes.

Here come three suggestions to inspire you, the possible variations are of course limitless:
Chilli sin carne with crème fraîche, guacamole and green chilli pepper.

Chanterelles with truffle mayonnaise, Parmesan and rocket.

Pulled pork with sweetcorn, Cheddar and spring onions.